BROUGHT TO YOU BY YOUR CUSTOMER EXPERIENCE TEAM
Your Resource for Customer News, Software Releases, and other Useful Links
FILEWAVE COMMUNITY FORUM
We have launched our new Community Forum! This is the place for FileWave users to connect with each other to share tips and tricks, problem-solve and discuss all things related to the Device Management software.
VISIT FORUM
FILEWAVE DISCORD CHAT
Discord is a place where FileWave customers can engage in real-time chats with one another in either text or audio form. You can also find live events hosted here by Professional Services that cover various topics.
VISIT DISCORD
NEWSLETTERS
Missed the Previous Newsletters?
If you have missed the previous customer newsletters from us, you can view them again by month via the link below
SEE ALL NEWSLETTERS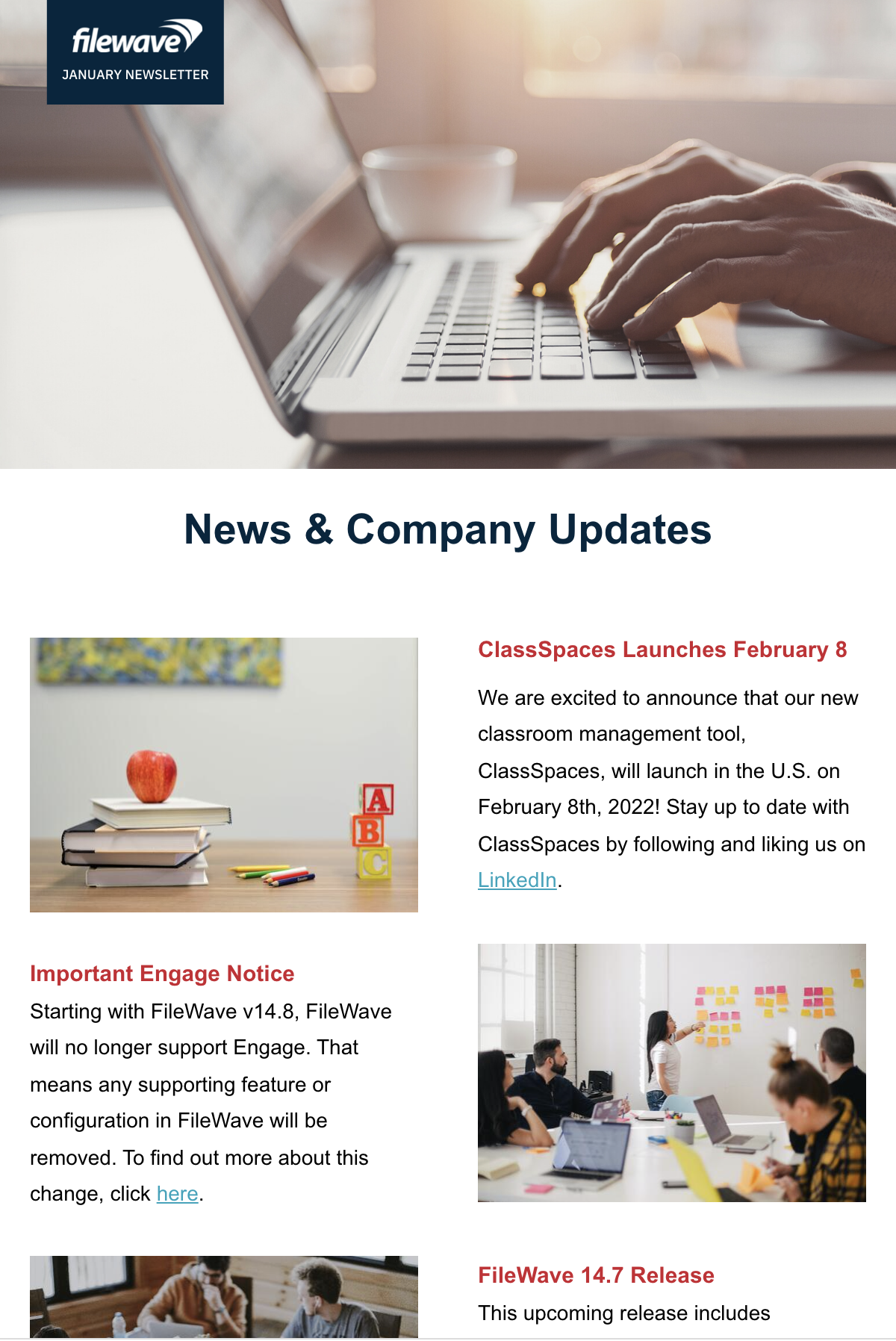 LATEST RELEASE
Version 14.10.1 Official Release
The Version 14.10.1 Release is the latest in our effort to provide great features and empower IT leaders with efficient and effective management tools for all major device platforms.
Version 14.10.1 brings us back to the very basics, where we add functionalities our users have been asking for and further integrate our web-based and client-server solutions, to provide busy IT leaders like you the tools and insights you need to manage your device environment quickly and effectively.
LEARN MORE
NEW! Customer Referral Program 🎉
Do you know someone who is interested in trying FileWave? Submit a referral form for a chance to win a special gift from us!
We want to work with people you recommend. You or your referee can easily submit a form and we will follow up with the contact information provided. View more information here.
AMERICAS
JUNE 2023
ISTE Live! 2023 | June 25th - 28th | Booth #1050 | Philadelphia, Pennsylvania
YOUTUBE
Find Us on YouTube for Event, Functionality and Product-Related Videos
Or Watch One of Our Latest Videos Below
Q2 2022 FileWave Alliance

Welcome Address by
CEO, Tobias Schimmer
Q2 2022 FileWave Alliance
Development &
Professional Services
Q2 2022 FileWave Alliance
ClassSpaces iOS Support
Q2 2022 FileWave Alliance
Ask Me Anything
Knowledgebase

FileWave Foundry

Product Roadmap

Product Board
The FileWave Encyclopedia
Use the search bar at the top right hand corner on our Knowledge Base to find what you are looking for. We have comprehensive articles on almost all areas of our software and solutions.
Learn by Topic
Want to learn by topic? Access our courses on the FileWave Foundry with your user account, for free.
Share Our Vision
See which features we are currently working on at the moment, and what features we are planning over the next releases.
Submit Your Ideas
As we develop solutions that continue to add value to our users, your feedback is of utmost importance to us. Have an idea for a feature you would like to submit? You can do so on our Product Board open to all of our users.
TESTIMONIALS
See What our Customers Say
"Filewave saved our IT department time and effort during last year's crisis in March 2020. With one day's notice we were able to reconfigure device filtering, deploy needed applications and update operating systems on nearly 6500 devices, all purely remotely."
"We have been using FileWave for close to 7 years, and they have consistently delivered on their promise – from its stability to its support system. Any problem we have encountered was always quickly addressed."
"An excellent multipurpose tool for deploying and managing technology in our enterprise environment. From creating detailed reports on hardware and software or deploying apps and custom scripts, all I need is to access my Filewave interface."